The Doobie Brothers Celebrate Potentially Life-Saving Match with Love Hope Strength Foundation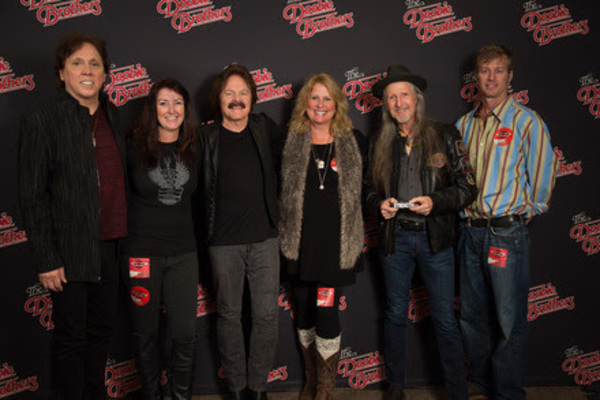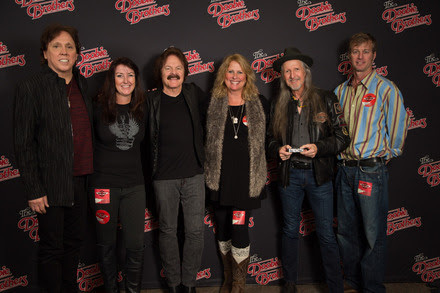 Pictured (Left to Right): John McFee, The Doobie Brothers; Katie Poppert, VP of Programs Love Hope Strength Foundation; Tom Johnston, The Doobie Brothers; Tami Munroe, Love Hope Strength Volunteer; Patrick Simmons, The Doobie Brothers; Todd Poppert, Love Hope Strength Volunteer.
The Doobie Brothers celebrated the success of their 2015 tour partnership with the Love Hope Strength Foundation by garnering a potentially life-saving bone marrow match between a blood cancer patient and one of their fans. Love Hope Strength joined forces with The Doobie Brothers in the summer of 2015 adding their "Get On The List" registry to several shows across the country. With the help of The Doobie Brothers and other supporting artists, Love Hope Strength has gained 36,940 registrations and 710 matches on the National Bone Marrow Registry this year to date. This match resulted from a fan who registered at the band's performance at Ocean City Bikefest in Ocean City, MD in September.

The cause hits close to home for the band, particularly Patrick Simmons, whose son, Pat Simmons, is a cancer survivor. Simmons notes, "Love Hope Strength is an amazing partnership for The Doobie Brothers. We couldn't be more thrilled to be a part of what they're doing – which is saving lives. I am so excited that we were able to generate a match this year and can't wait to continue our relationship with them in 2016!"

Katie Poppert, Vice President of Programs, attended The Doobie Brothers show in Naperville, IL on Nov. 15 on behalf of Love Hope Strength and was able to spend some time with the band before their performance. "It was our absolute pleasure to be invited to tour with the legendary Doobie Brothers this year. They have some of the most dedicated and giving fan base, and many were eager to help out in our joined efforts to save the lives of those with blood cancers by signing up to the national bone marrow registry to see if they could be a match for patients in need of a transplant. Because of their fans, we were able to secure our first potentially life-saving match from their tour, which is incredible. We look forward to working with them again as we continue our mission of saving lives, one concert at a time!"

Wrapping up an immense tour of sold out performances in 2015, The Doobie Brothers played 90+ shows in over 30 states and Canada. The band closed out the year with the Warren Haynes 27th annual Christmas Jam in Ashville, NC, on December 12, performing along with Warren himself, Tedeschi Trucks Band, Dawes, Blackberry Smoke and Bruce Hornsby. In 2016, the band will be co-headlining the highly anticipated "San Francisco Fest Tour 2016″ with Journey.

ABOUT LOVE HOPE STRENGTH FOUNDATION

The Love Hope Strength Foundation mission is to save lives one concert at a time. We believe all people deserve quality cancer care, a marrow donor if required, and most importantly hope. Founded by cancer survivors Mike Peters of the 80's band The Alarm and James Chippendale, LHSF leverages the power of music to expand the marrow registry through our "Get on the List" campaign and raises funds to support international cancer centers. To date, we've added over 100,000 people to the marrow registry and found 1,176 potentially lifesaving matches. Learn more at www.lovehopestrength.org.