The Doobie Brothers to Receive Voice of Music Award at 2015 ASCAP Pop Awards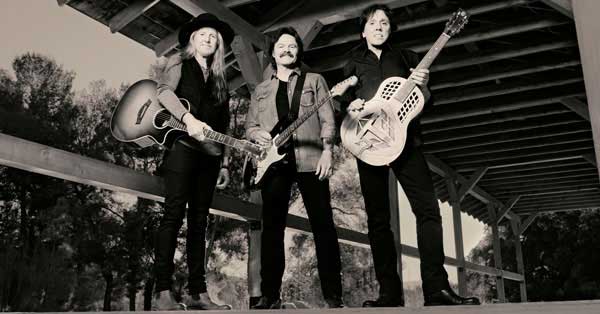 Rock icons will be honored for 40+ years of music that gives voice to the spirit of a generation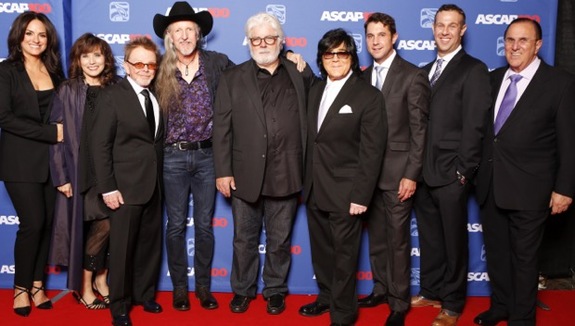 (l-r): ASCAP's LeAnn Phelan and Loretta Muñoz, ASCAP President Paul Williams, the Doobie Brothers' Patrick Simmons and Michael McDonald, ASCAP EVP of Membership John Titta, ASCAP's Michael Martin and Jason Silberman, ASCAP CEO John LoFrumento at the 2014 ASCAP Country Music Awards
New York, NY – December 1, 2014: The American Society of Composers, Authors and Publishers (ASCAP) has announced that it will honor rock icons The Doobie Brothers with the prestigious ASCAP Voice of Music Award during its 32nd annual Pop Music Awards. The invitation-only gala will take place on April 29th, 2015 at the Loews Hollywood Hotel in Los Angeles, CA. The event will also celebrate the songwriters and publishers of ASCAP's most performed pop songs of 2014.
The ASCAP Voice of Music Award honors ASCAP members whose music gives voice to the spirit of a generation. The Doobie Brothers take their place among a stellar list of past recipients, each one an influential music great: Mary J. Blige, Garth Brooks, Kenny Chesney, Daddy Yankee, Luis Fonsi, Amy Grant, George Strait, Diane Warren and Jimmy Webb.
"Over the years the Doobie Brothers have given us one memorable song after another," remarked ASCAP President and Chairman Paul Williams. "Their ever-changing sound has embraced classic rock, pop, country and soul, but terrific songwriting has always been at the heart of what they do. I am thrilled to honor the Doobies for more than four decades of music that continues to speak to generations of listeners."
Formed in 1969 by Patrick Simmons and Tom Johnston, The Doobie Brothers made their mark with a run of punchy hits on Warner Bros. Records, attaining radio and chart ubiquity in the early '70s. The group's line-up was later augmented by Michael McDonald, whose soaring vocals pushed the band to new commercial and critical heights. Their #1 singles "Black Water" and "What a Fool Believes," lead a catalog of indelible songs that includes "Listen to the Music," "Jesus Is Just Alright," "Rockin' Down the Highway," "Long Train Runnin'," "China Grove," "Take Me in Your Arms," "Takin' It to the Streets," "Minute by Minute," "You Belong to Me," "The Doctor" and more. In all, the Doobies have tallied four Grammys, five top 10 singles and 16 top 40 hits. Beginning with their multi-million-selling sophomore collection Toulouse Street, the Doobies have three multi-platinum, seven platinum and 14 gold albums. Their Best of the Doobies has sold more than 11 million copies – a rare "diamond record." To date, the band's propulsive, roots-based, harmony-laden, guitar-driven style has sold more than 40 million albums. On November 4th, the Doobies released their 14th album Southbound, featuring new recordings of their best-loved songs in duet with country superstars Brad Paisley, Blake Shelton, Jerrod Niemann, Sara Evans, Love & Theft and more.
The 32nd ASCAP Pop Music Awards will precede the 10th annual ASCAP "I Create Music" EXPO, the only national conference dedicated to the craft and business of songwriting and composing. The EXPO will take place April 30th – May 2nd, 2015 at the Loews Hollywood Hotel in Los Angeles, CA. Many of the biggest names in music have shared their wisdom and music at the EXPO, including Jon Bon Jovi & Richie Sambora, Jackson Browne, Lindsey Buckingham interviewed by Sara Bareilles, Dr. Luke, Jimmy Jam & Terry Lewis, Quincy Jones, Randy Newman, Katy Perry, Tom Petty, Carly Simon, Justin Timberlake in conversation with Bill Withers and Ann & Nancy Wilson (Heart). For more details, visit
www.ascap.com/expo
.
Members of the press can request event credentials for the 32nd annual ASCAP Pop Music Awards by clicking
here
.
About ASCAP
The American Society of Composers, Authors and Publishers (ASCAP) is a professional membership organization of songwriters, composers and music publishers of every kind of music. ASCAP's mission is to license and promote the music of its members and foreign affiliates, obtain fair compensation for the public performance of their works and to distribute the royalties that it collects based upon those performances. ASCAP members write the world's best-loved music and ASCAP has pioneered the efficient licensing of that music to hundreds of thousands of enterprises who use it to add value to their business – from bars, restaurants and retail, to radio, TV and cable, to Internet, mobile services and more. The ASCAP license offers an efficient solution for businesses to legally perform ASCAP music while respecting the right of songwriters and composers to be paid fairly. With 500,000 members representing more than 9 million copyrighted works, ASCAP is the worldwide leader in performance royalties, service and advocacy for songwriters and composers, and the only American performing rights organization (PRO) owned and governed by its writer and publisher members.
www.ascap.com
.