The Doobie Brothers to Receive Music Biz 2015 Chairman's Award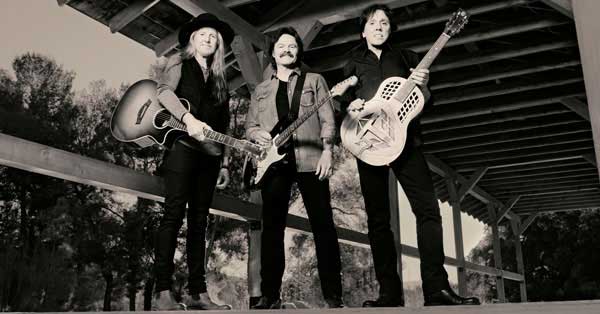 January 22, 2015 – The Music Business Association (Music Biz) will present its Chairman's Award for Sustained Creative Achievement to top-selling Rock band The Doobie Brothers at the Music Biz 2015 Awards Luncheon on Thursday, May 14, at 12 p.m. at the Sheraton Nashville Downtown Hotel in Nashville. The Award recognizes artists who have maintained a strong creative spirit and achieved significant commercial success throughout their career, continuing to release vital new music deep into their musical lifespan.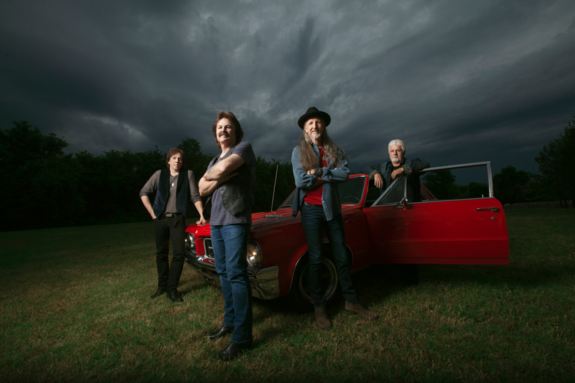 From left: John McFee, Tom Johnston, Patrick Simmons, and Michael McDonald
of The Doobie Brothers
Since forming in 1969, The Doobie Brothers have sold more than 48 million albums, including three multi-Platinum albums, seven Platinum albums, and 14 Gold albums. In addition, their greatest hits record, Best of the Doobies, has sold over 11 million copies, earning a rare RIAA Diamond certification.
The band also landed 16 songs on the Billboard Top 40 – including five Top 10 singles and chart-toppers "What a Fool Believes" and "Black Water" – and won four Grammy Awards, including Record of the Year for "What a Fool Believes" and Best Pop Performance by a Duo or Group with Vocals for the album Minute by Minute.
In 2014, they released the new collaboration album Southbound, on which they re-recorded some of their greatest hits with a veritable who's-who of Country musicians, including Zac Brown Band, Blake Shelton, Hunter Hayes, Toby Keith, Brad Paisley, and Sara Evans. The record also marks the first time that all three of the band's lead vocalists – Tom Johnston, Michael McDonald, and Patrick Simmons – appear on the same album since 1976's Takin' It to the Streets. Southbound debuted at #16 on the Billboard 200 chart, and the release was celebrated with an all-star performance at the 47th Annual CMA Awards last November.
"The Doobie Brothers have achieved incredible success over the years, selling an astonishing number of records and maintaining a regular presence on the Billboard charts," said Fred Beteille, Chairman of Music Biz. "By re-envisioning their greatest hits through the filter of Country music, the band has revealed new dimensions to songs that millions of people know by heart. I'm honored that they will be the recipient of my first Award as Chairman of Music Biz and am excited to celebrate the legacy of this band as they enter the next chapter of their career."
"Receiving this Award is a great honor, as it recognizes the music from our early days together and shines a light on the music we're creating right now," said Tom Johnston of The Doobie Brothers. "We're excited about the new creative doors we've opened up for ourselves by working with so many great Country musicians and can't wait to carry that experience forward. A heartfelt thanks from the whole band to the Music Business Association for this amazing Award," adds Patrick Simmons.
The Doobie Brothers released their debut self-titled album in 1971 and their Platinum-selling followup, Toulouse Street, in 1972. The latter contained the band's first Top 40 single, "Listen to the Music," which peaked at #11. A string of hit albums followed, including the Triple Platinum Minute by Minute; Double Platinum The Captain and Me and What Were Once Vices Are Now Habits; Platinum Takin' It to the Streets and One Step Closer; and Gold Stampede, Livin' on the Fault Line, and Cycles. The band was inducted into the Vocal Group Hall of Fame in 2004.
Previous recipients of the Music Biz Chairman's Award include Paul Rodgers, Buddy Guy, Lionel Richie, Brian Wilson, Cyndi Lauper, Daryl Hall & John Oates, BB King, Chicago, Kool & The Gang, Carlos Santana, Liza Minnelli, Kenny Rogers, Dionne Warwick, Fleetwood Mac, Billy Joel, Stevie Wonder, Nat King Cole, Barbra Streisand, Judy Garland, and Frank Sinatra, among others.
Music Biz 2015, which will be held in Nashville for the first time in Association history on May 12-14, is the music industry's premier event, giving the commerce and content sectors a place to meet with trading partners, network with new companies, and learn about new trends and products impacting the music business. Registration is available now, with early bird discounts available until March 8. For more information or to sign up for the conference, visit
http://musicbiz2015.com
About the Music Business Association
The Music Business Association (Music Biz) is a membership organization that advances and promotes music commerce — a community committed to the full spectrum of monetization models in the industry. It provides common ground by offering thought leadership, resources and unparalleled networking opportunities, all geared to the specific needs of its membership. By leveraging the legacy of the former National Association of Recording Merchandisers (NARM) and its hub for digital initiatives, digitalmusic.org, Music Biz brings a unique perspective and valuable insight into the trends and changes that innovation brings. Today, we put our collective experience to work across all delivery models: physical, digital, mobile and more. Music Biz and its members are committed to building the future of music commerce — together