THE DOOBIE BROTHERS: LIVE FROM THE BEACON THEATRE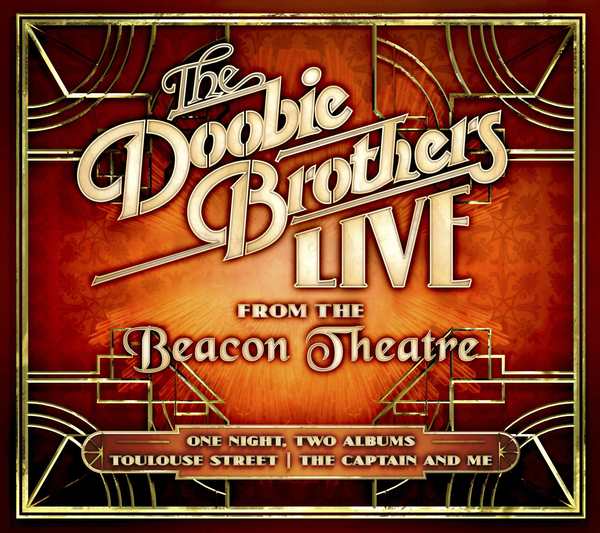 The Legendary Band Returned To The Beacon For The First Time In 25 Years To Perform Its Landmark Albums, Toulouse Street And The Captain And Me

The Concert Will Be Released On June 28 In 2CD, 2CD/DVD, And Blu-ray Versions Which Are Available For Pre-Order Now
In November 2018, The Doobie Brothers returned to the Beacon Theatre for the first time in 25 years to perform two of their landmark albums, Toulouse Street and The Captain And Me. Both audio and video of that special performance are now set for release on June 28.
The Doobie Brothers Live From The Beacon Theatre will be available in 2CD ($19.98), 2CD/DVD ($34.98), and Blu-ray ($24.99) versions. Exclusive Live From The Beacon Theatre merchandise and bundles are also available in
The Doobie Brothers Official Online Store
. All versions are available for
pre-order
starting today. The album's lead track, "Rockin' Down The Highway," is currently available on all streaming and download services.
This historic performance at the Beacon offered an opportunity for Doobie fans to hear deep cuts and songs never-before performed live by the band, such as "Mamaloi," "O'Connelly Corners," "Ukiah," and "The Captain And Me." The show begins with the 10 songs from the group's second studio album, Toulouse Street. Originally released in 1972, it's been certified platinum. Several of the band's most popular songs first appeared on the album, including "Jesus Is Just Alright" and "Listen To The Music," the latter presented here with a brand new arrangement featuring horns.
Next, The Doobie Brothers played its third studio release, The Captain And Me. Originally released in 1973, it reached #7 on the Album Chart and has been certified double platinum. Hits include "Long Train Runnin'," "China Grove" and "South City Midnight Lady." The show ended with a three-song encore that included their #1 hit "Black Water."
The Doobie Brothers are back on the road again this year and will join Santana for an extensive summer tour across the U.S. For more information and tour dates, please visit
www.thedoobiebrothers.com
LIVE FROM THE BEACON THEATRE
CD Track Listing:
Disc One: Toulouse Street
1. "Listen To The Music"
2. "Rockin' Down The Highway"
3. "Mamaloi"
4. "Toulouse Street"
5. "Cotton Mouth"
6. "Don't Start Me To Talkin'"
7. "Jesus Is Just Alright"
8. "White Sun"
9. "Disciple"
10. "Snake Man"
Disc Two: The Captain And Me
1. "Natural Thing"
2. Band Intros
3. "Long Train Runnin'"
4. "China Grove"
5. "Dark Eyed Cajun Woman"
6. "Clear As The Driven Snow"
7. "Without You"
8. "South City Midnight Lady"
9. "Evil Woman"
10. "Busted Down Around O'Connelly Corners"
11. "Ukiah"
12. "The Captain And Me"
Encore
13. "Take Me In Your Arms (Rock Me)"
14. "Black Water"
15. "Listen To The Music" (Reprise)
The Doobie Brothers Summer Tour Dates
06/20/2019 - Irvine, CA @ FivePoint Amphitheatre
06/22/2019 - Phoenix, AZ @ AK-Chin Pavilion
06/23/2019 - Chula Vista, CA @ North Island Credit Union Amphitheatre
06/24/2019 - Los Angeles, CA @ Hollywood Bowl
06/26/2019 - Mountain View, CA @ Shoreline Amphitheatre
06/27/2019 - Wheatland, CA @ Toyota Amphitheater
06/29/2019 - Auburn, WA @ White River Amphitheatre
06/30/2019 - Ridgefield, WA @ Sunlight Supply Amphitheater
07/2/2019 - Salt Lake City, UT @ USANA Amphitheatre
07/3/2019 - Denver, CO @ Pepsi Center
07/6/2019 - Dallas, TX @ Dos Equis Pavilion
07/9/2019 - Austin, TX @ Austin360 Amphitheater
07/11/2019 - Kansas City, MO @ Sprint Center
07/12/2019 - St Louis, MO @ Hollywood Casino Amphitheatre
07/13/2019 - Memphis, TN @ Memphis Botanic Garden
08/3/2019 - Saint Paul, MN @ Xcel Energy Center
08/4/2019 - Chicago, IL @ Hollywood Casino Amphitheatre
08/6/2019 - Toronto, ON @ Budweiser Stage
08/7/2019 - Cuyahoga Falls, OH @ Blossom Music Center
08/9/2019 - Indianapolis, IN @ Ruoff Home Mortgage Music Center
08/10/2019 - Cincinnati, OH @ Riverbend Music Center