The Doobie Brothers Inducted Into Rock and Roll Hall of Fame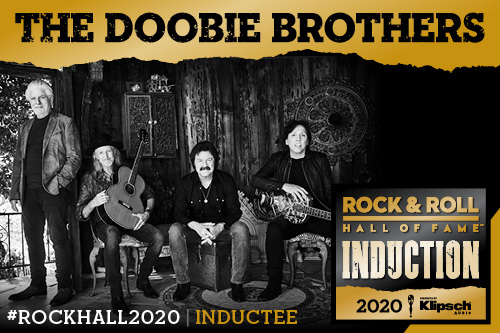 The Doobie Brothers have been inducted into the Rock and Roll Hall of Fame.
The 35th Annual Rock & Roll Hall of Fame Induction Ceremony, presented by Klipsch Audio, will take place on Saturday, May 2, 2020 at Public Auditorium in Cleveland, Ohio. The Ceremony will be broadcast live for the first time on HBO on May 2nd at 8 p.m. ET. Performances and special guests will be announced later.
The Ahmet Ertegun Award honors songwriters, producers, disc jockeys, record executives, journalists and other industry professionals who have had a major influence on Rock & Roll.
Ballots were sent to an international voting body of more than 1,000 artists, including current living Inductees, historians and members of the music industry. Factors such as an artist's musical influence on other artists, length and depth of career and the body of work, innovation and superiority in style and technique are taken into consideration.