THE DOOBIE BROTHERS: QUADIO Box Set Coming September 4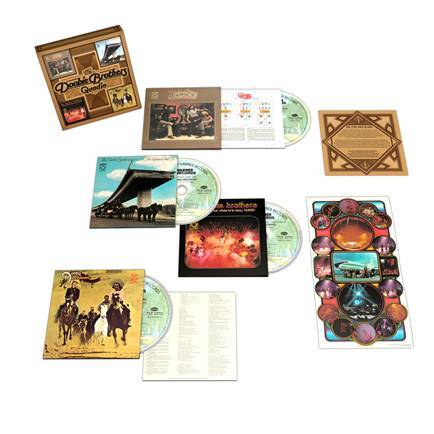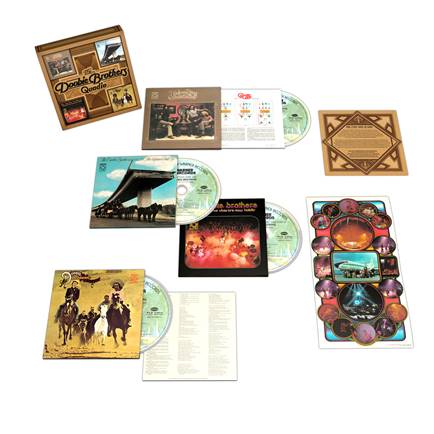 In celebration of two major milestones this year as the band marks its 50th anniversary and its induction into the Rock and Roll Hall of Fame in November, The Doobie Brothers will release a new boxed set that highlights some of the music that helped make them one of the most popular bands of its generation. THE DOOBIE BROTHERS: QUADIO will feature quadraphonic mixes of Toulouse Street, The Captain & Me, What Were Once Vices Are Now Habits, and Stampede. The four Blu-ray audio discs come in replicas of the original vinyl record sleeves and are all packaged together in a clamshell box.
The set will be available on September 4 through www.TheDoobieBrothers.com and www.Rhino.com. The set will be released to all other retail outlets a few weeks later on November 6.
THE DOOBIE BROTHERS: QUADIO brings together four essential albums from the band's early days. It begins with the group's second album, Toulouse Street, which was released in July 1972. The record achieved platinum status and launched the group to stardom with the hits "Listen to The Music," "Rockin' Down the Highway" and "Jesus is Just Alright."
The following year, the band returned with The Captain & Me, which was certified double-platinum on the strength of hits "Long Train Runnin'" and "China Grove," as well as fan favorites "South City Midnight Lady" and "Without You." These back-to-back classic albums represent one of the greatest one-two vinyl punches of the 1970s. Many songs from the albums are still played every day on the radio, a testament to the timelessness of the music.
In 1974, the Doobie Brothers released the group's fourth album, What Were Once Vices Are Now Habits. The record peaked at #4 on the albums chart and was certified double-platinum. It also featured the band's first #1 hit, "Black Water," which was originally released as the B-side to "Another Park, Another Sunday."
Stampede is the final studio album featured in THE DOOBIE BROTHERS: QUADIO. Released in April 1975 and certified gold, it also peaked at #4 on the albums chart. It includes the Top 40 hits "Take Me In Your Arms (Rock Me)" and "Sweet Maxine." Stampede would be The Doobie Brothers' last studio album with original singer/guitarist Tom Johnston until he re-joined the band in 1989.
For more info on THE DOOBIE BROTHERS: QUADIO visit thedoobiebrothers.com/store